Summer Top 10: Polos, more polos, and espadrilles
I wasn't going to do a 'high summer' version of our seasonal Top 10. After all, the spring edition back in April included such things as panama hats and boat shoes.
But everyone's stock has been arriving so late that the intervening months have seen lots of favourite brands launch polos, rayon and the like. And the weather has been so hot in the UK that I've been searching for things like lightweight linen trousers and floaty shirts.
So here's a summer breakdown of my favourite things I've tried during those two warm months.
SKr2560 (£205)
Rubato have expanded their summer range significantly, with knitted T-shirts (long and short sleeve) and knitted polo shirts. All are made with cotton/silk mix that's very dry to the touch (almost, but not quite scratchy) and use this to make pieces that have a solid handle, but are cool by virtue of being open weave.
The polo shirts are my favourite, in particular the stripes, but I find the short-sleeve T-shirts (such as the cream above) the most interesting. They're cut with a high neck and a body that hangs straight, rather than having any ribbing at the bottom (in contrast to those from The Anthology, for instance). This makes for a rather different look, quite blocky and modern.
I took the black (medium) and will be trying in with both casual and smart trousers. The long-sleeve is more like a sweater, with ribbing on the hem. Still light and dry though.
£69
This latest launch from Tony is a spin on a menswear standard, as we should probably expect by now, with the obvious thing here being the traditional ribbons that tie up the calf. I have to say I'm a little unsure about the style, but having tried them myself the ribbon does function very well, in that it keeps the heel firmly in the shoe, while allowing you to have a roomy fit - often I have to compromise on one or the other.
I also love the black-on-black colour option, which I've never seen before, as it makes them less obviously a beach shoe. They're a basic make, again in common with what Tony does elsewhere, but this is clearly reflected in the price.
€145
I've never been that much of a fan of knitted cotton polo shirts, because the ones I've tried historically (usually from Smedley) have been oddly warm on the skin and crumpled easily. That was why our PS ones were done in a high-twist merino.
However, if you do like cotton, this version from Perro is the best I've tried in terms of performance. The crepe does something similar to a twist, helping the cotton to maintain its shape and make it more breathable too. A smallish collar and a straightforward make, but a great feel on the body.
€130
This new polo from Casatlantic I loved too, though in spite of its cotton rather than because of it. The material isn't the coolest; it's a fairly thick cotton. But the style is fantastic, particularly with high-waisted trousers.
It's slim, short and fairly fitted at the waist (not unlike Rubato knitwear, though the Rubato polos are more generous there). The collar is large, and normally would be too dramatic a style for me, but it works in the black I went for, because the shape and collar are a little hidden. Unfortunately they all seem to have sold out quickly, and won't be restocked this summer.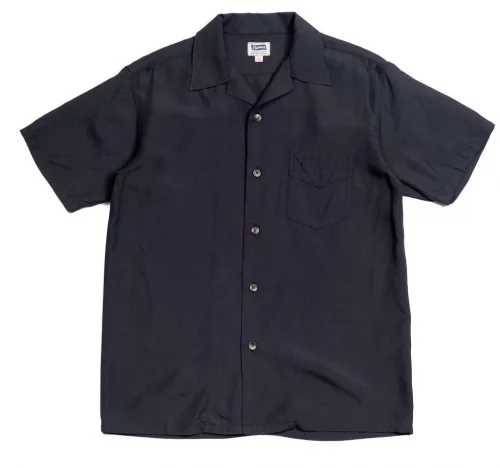 Pherrow's open-collar rayon shirt
£149
It's a perennial problem, actually, trying to recommend products in a round-up article, when they often sell within two or three weeks. This rayon shirt from Pherrow's for example, available at Clutch, is the first I've tried that I really liked - primarily because the collar is smaller and overall it's a very simple, straightforward make. Good price too.
But many of the sizes have gone. I can see a medium in the black, an extra large in the natural colour, and one or two others. That's about it. However, this is a style Clutch gets every year, so it's one to note down and look out for.
The Anthology drawstring linen trousers
$295
I have a pair of olive-green linen drawstring trousers from Informale that I've worn a lot the past couple of years. They're for hot days, when you want that extra comfort, and not for tucking anything into, so the waistband is covered.
However, I recently tried the similar style from The Anthology, and prefer them. It's a single pleat, rather than double, so you don't get all that pooling around the waist. They're a better rise (for me) and the Japanese linen is cool while holding its shape better. I bought the navy, and am considering the olive.
$575
Haulier sent me one of these totes to try, earlier in the year and the slow-woven canvas is beautiful. The leather isn't quite as good, and they are expensive, but it's a really nice option for a beach bag.
I mention it because a reader specifically asked for a recommendation for a beach bag recently. However I realise not many readers will go to the beach often enough to be able to justify a bag just for that purpose, particularly for over $500. I prefer the proportions of the bigger (and so more expensive) version too.
Anderson & Sheppard linen holiday shirt
£245
I love wearing a linen shirt on holiday, but most of my bespoke ones aren't really suitable. They're more fitted, long, with a higher collar designed for a jacket. They look a little too smart on holiday, and certainly can't be worn untucked.
For that kind of shirt it's worth looking for something more casual, which can often be ready-to-wear. One of the best there is these from Anderson & Sheppard, which come in a big range of colours, and are nice and blousy tucked in, or loose and flowing untucked. They do come up big though - even the XS that I wear is roomy.
Simone Abbarchi bespoke camp-collar shirt
€210
The alternative to that is to try and design something with a shirtmaker, adding in all the extra room you want, the length, the softer collar and so on. Shirtmakers are not always great designers, and this can be a bit hit and miss.
However, when I tried it recently with Simone Abbarchi from Florence (who also visits London and New York) he nailed it first time. This model has a camp collar, a straight hem and a looser fit. He's also making one with a one-piece collar, which he calls a transformable or Loro Piana collar (as they were the first to popularise the style in Italy).
€89
Peplor is based in Florence, a young brand using old Italian military fabrics to make various accessories - and these shorts. I wouldn't normally wear camouflage, but this is very subtle, and the cut of the shorts is really nice, short and roomy without being an extreme of either. It's based off an old gurkha style, thankfully without the double-buckle business.
I did have one issue with them, which is that the drawstring broke, but apparently this was an early batch where the string was made in three parts. It's now just one. They're also pretty stiff, and won't really soften much over time, so that won't be for everyone.
Among other shorts out there, RRL has a couple of higher rise canvas options, and Buzz Rickson has some styles around that are great, if expensive. Clutch received those recently.
As ever, if you have questions on any of these products, including sizing, let me know. Also how they compare to other similar things in the market.